Solar Consulting developed  an App for iPhone and iPad which can be downloaded for free from the AppStore. You can also view a YouTube Film which will display the use of the App Solar Consult.
Roadmap to get an advice from the App Solar Consult: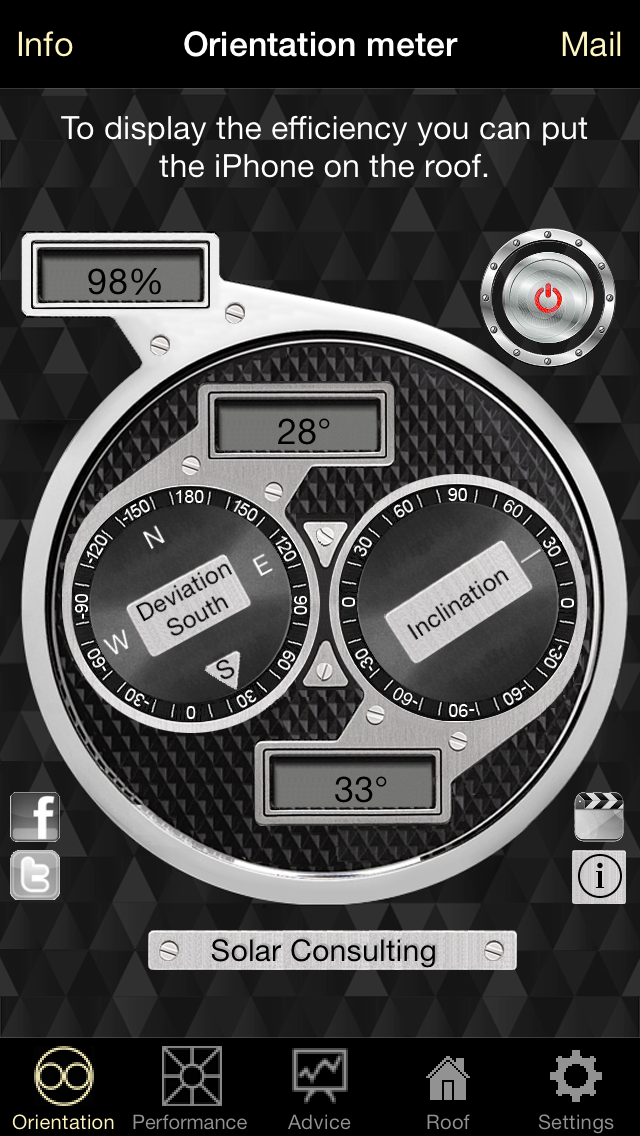 You can aim the iPhone/iPad to the sun as if it's a solar panel, which is placed on the roof. Using the angle and the deviation from the South (or North), the efficiency of a solar panel will be displayed.

Check the map with the top view of the location and determine the solar irradiation in your region. On a country map, you can see the solar irradiation of your country. You can also enter a different address or country.

After entering the size of the roof, in the 3rd tab the App can give you advice with the maximum number of solar panels that can be installed. In the Settings tab, you can select a different type of solar panel.

In addition to the advice of the app, the user can customize the solar power system (4th tab). In case of a skylight or chimney, the user can differ from the advice.

Choose for [Mail/Save] on the top right of the screen and enter your details. You can mail the project to your own address or to a supplier for a quote. To save projects, you need to install the PRO version.
The app is easy to use for people who want to examine whether their roof is suitable for solar power and it is also used by professionals (such as suppliers, consultants and installers) to determine the most optimal setup  at customers locations.
Screenshots of the App Solar Consult: