A setup of solar panels can be saved as a project on the device so the user can open the same project on a later occasion. The App can be used as a administration tool at a customer location. All stored projects on a device can be selected and administered by using a table.
Also a picture of the roof can be saved with the project so it can be shown later to an installer. After delivery a database can be kept for all completed project as references on your device.
For each project a name should be given to the project. This can be a name of the tender or perhaps even with the price. A date of delivery can be entered optionally.
Without a date or if you enter a date in the future, the project will be displayed in the table 'Projects' (as an open project) and the completed projects will be displayed in the table 'Completed' (after delivery as a reference with a picture of the installed solar panels).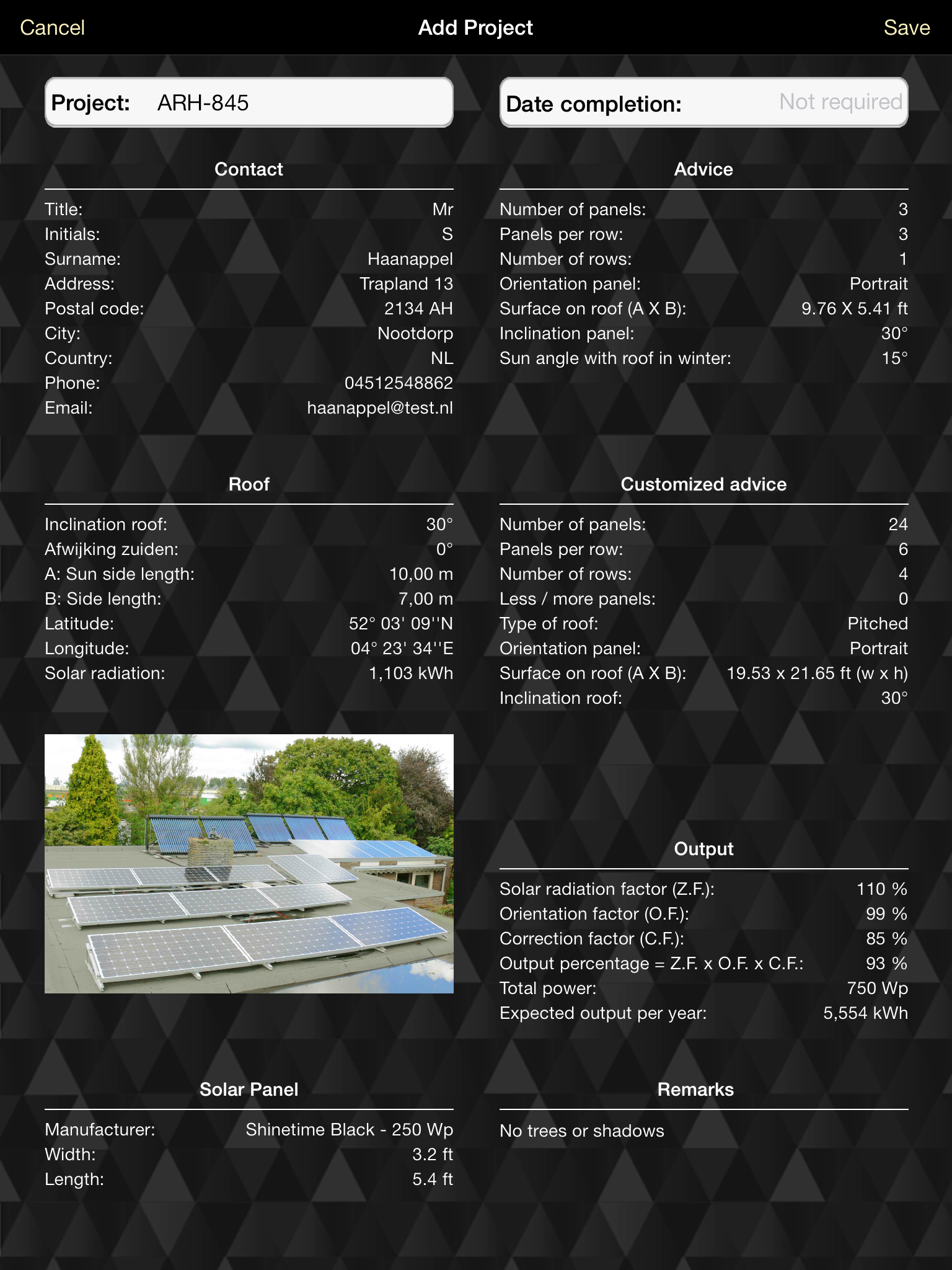 Explanation table 'Projects:
The user can tap on the upper right of the table on the "+" which will add a new project. Each row is a project and the user can do the following actions:
By tapping on the name of the person or project, the project will be retrieved in the App.

By tapping on the 'i' on the right in the row, the project information will be displayed on one screen.

Swiping the row (strikethrough) gives the ability to delete the project.

By tapping on the button with the Cloud on the left in the row, the user can copy the project to the Cloud.

By tapping on the button with the cloud at the middle top of the screen a project from the table Cloud can be copied to the device or can be deleted. You need to be signed in on the server to perform this action.
If the button with the Cloud in the row is blue, then a copy of the project is stored in the Cloud.
If a symbol of a photo (a house with a sun) is displayed on the right in the row, means there is also a picture stored with the project. If the symbol of the photo is blue, the picture is saved in the Cloud.
If projects from another device or by a colleague is saved in your Cloud, then the blue color of the buttons are sometimes not in sync with your Cloud. To synchronize this, you can swipe the rows downwards.