The PRO version is specifically designed for energy consultants and suppliers of solar panels.
You can display your company name under the orientation meter, you can display your logo, company name and website on [Info], add your own list of solar panels and with [Mail] the mail with a request for an tender will be send directly to your own mail address.
The Standard and PRO version allows you to change the characteristics of a solar panel and change the value of the sun angle in the winter. The settings affect the calculations of the required surface of solar panels on pitched and flat roofs and the length of the shadow behind a row of solar panels on a flat roof.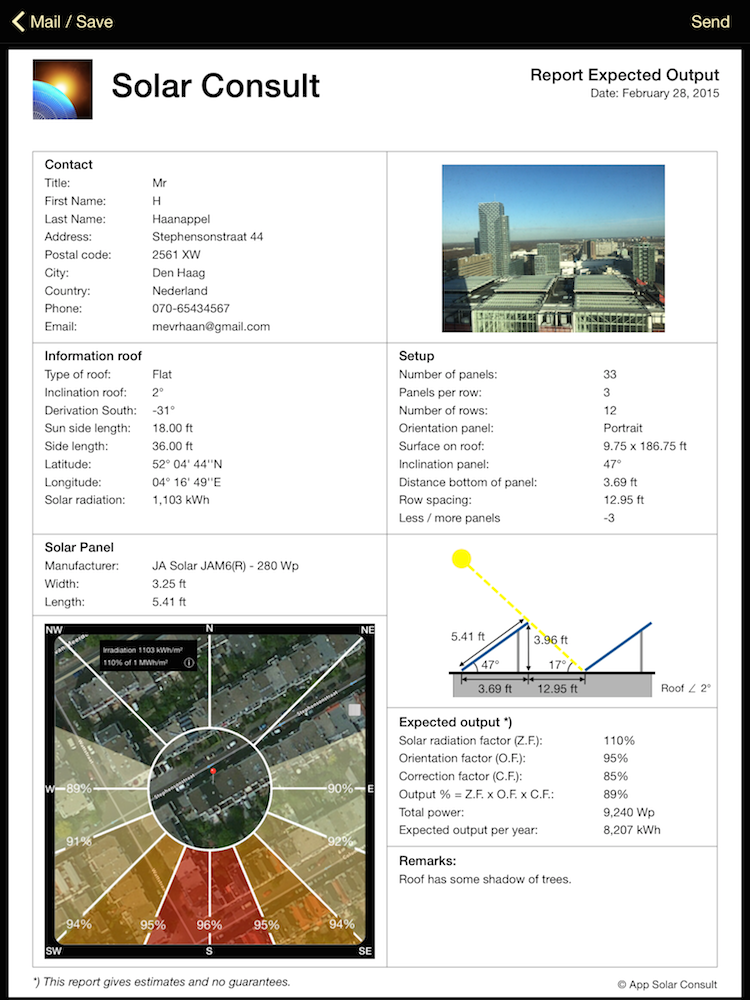 With the PRO version multiple configurations can be stored as projects on your device and in the Cloud. So in this version the App can be used as a registration tool at a customer location. 
You can save the data of a configuration and include a picture on your iPhone or in the Cloud and you can open the same configuration on your iPad. Additionally, you can send the configuration to the Cloud of another user (such as colleague or installer).
In the new PRO-version (available at the 15th of March 2015) a PDF file can be generated. All data can be displayed on one page, which you have collected with the App. This document can be used by installers as work order or be attached to estimates.
You can only see and mail the PDF file in the PRO version of the app 'Solar Consult'. In this version is it also possible to display your own logo and company name in the header of the document. The method for generating a PDF file:
Determine the location by entering the address in the screen 'Map'.

Enter the details of the roof on the screen 'Advice'.

Let the App calculate the optimal setup and select a solar panel.

Change the advice (if needed) in the screen 'Customize'.

Go back to the 'Map' and ensure that the slider has the same angle as the solar panel.

Zoom in on the map to see the roof. The last appearance of the screen 'Map' (when you leave the screen) will be displayed on the PDF.

Choose in the top right of the screen for 'Mail / Save'.

Enter the contact information to be displayed on the PDF.

You can add a photograph of the roof.

If no photograph is included, then the map of the solar radiation will be displayed on the PDF file.

Tap on the logo 'PDF' to generate the document.

Check the data and if you want, you can mail the PDF file as an attachment.
The other functions of the PRO-version are identical to the standard version.